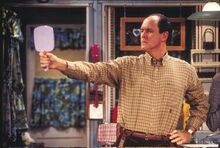 'Oh My God, I'm Gorgeous!' is a catchphrase used by Dick Solomon. The phrase was first used in the episode Dick's First Birthday, when he dyes his hair black for fear of getting old.
It usually involves Dick looking at himself in a mirror and reflects his narcissistic character. The phrase has also seen some variations, such as 'Oh My God, I'm Hideous!'
Sally has also been seen to say this phrase in the Season 4 episode Two-Faced Dick, although Dick and Sally have swapped bodies.
Ad blocker interference detected!
Wikia is a free-to-use site that makes money from advertising. We have a modified experience for viewers using ad blockers

Wikia is not accessible if you've made further modifications. Remove the custom ad blocker rule(s) and the page will load as expected.