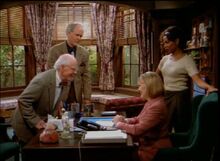 The Office with the Bay-Window is an office at Pendleton State University. It appears larger than most of the other offices in the university. It has a view of an apple tree from the bay window.
Several people wanted to receive this office when Professor Fuscoe got recruited by Princeton University. The successor of this office was Mary Albright who kept it until Dick selfishly tried to get Professor Suter to have it. However, Dicks efforts got the professor fired, and Dean Sumner gave the office to Father Rice.
Ad blocker interference detected!
Wikia is a free-to-use site that makes money from advertising. We have a modified experience for viewers using ad blockers

Wikia is not accessible if you've made further modifications. Remove the custom ad blocker rule(s) and the page will load as expected.